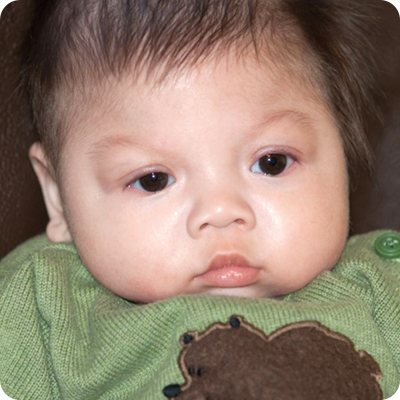 Welcome

to Sammy's
Friends Foundation
We are a private charity organization based in NJ.
We strive to educate, support, and provide monetary
assistance to cover developmental therapy costs.
Sammy was a sweet baby boy who loved cuddles, bath time, and the good oldies songs. He was also a child with complex medical diagnosis including Infantile Spasms and Williams Syndrome.
It Should Matter to You Too!
Because Special Children have Special Needs
When a baby or young child suffers chronic illness with potential long term disabilities, the family is under tremendous pressure. In addition to frequent medical appointments, the family also faces struggles to understand their child's diagnosis and what the future may hold
I would like to express my gratitude to Sammy's Foundation. No parent ever imagines that their child will need specialized help. When my daughter, Victoria, needed medical attention, multiple specialists and therapy, it wasn't only the worrying and time consumption, but the cost of treatments can be unaffordable for some people. With the therapy she has received in part thanks to Sammy's Friends Foundation, my daughter has thus far been able to overcome her challenges.

Jennifer Freier

A Neumette Donor

Thank you Sammy's Friends Foundation for your thoughts, prayers and aid for James! James is almost 3 years old. He has a genetic disorder called inverted duplicated deleted 8p which has resulted in agenesis of the corpus callosum, moderate bilateral hearing loss, and global developmental delay. Other families with children of the same disorder have joked we should call it the Angel disorder as James is a precious beaming sweet social ray of light. High 5s, Hugs and Kisses never run out in our home. James has been working hard with Azriel Novogroder for over a year now. James has learned to sit without toppling. He is still working on taking weight through his legs and learning to crawl and hopefully walk. Thank you for thinking of us!

Amanda Echterling

A Neumette Non-profit Partner

I just wanted to take a moment and thank you for the work you are doing through Sammy's Friends Foundation! Our son Sam is 5 years old and has a rare genetic condition (two base pair deletion on the STXBP1 gene). He has a history of seizures, and has global developmental delays. Physically and cognitively, he operates at around a 6-10 month old level. Although he cannot crawl or walk, he has very good core strength and head control, and he can bring himself up to sitting like a champ! For the past four years, we have been travelling from our home in Alabama to New Jersey several times a year for specialized Physical Therapy with Azriel Novogroder at Novogrow, LLC. Sam is a very tough case, but there is no doubt in our minds that Sam would not be able to do many of the things he can today without the help of the CME Therapy provided at Novogrow. As you can imagine, though, it gets pretty expensive to spend 3 – 4 weeks a year in a hotel and to pay our portion of those 30-40 hours of physical therapy intensives that are "out of network" for our insurance. So I was just thrilled when I found out recently that we are the recipients of one of the Sammy's Friends' Foundation PT vouchers from Novogrow, LLC! Thank you so much for making this possible – it is both an incredible gift for us, and an incredibly special way to honor your son's memory!

Margie Slemp

A Neumette Donor

I would like to express my gratitude to Sammy's Foundation. No parent ever imagines that their child will need specialized help. When my daughter, Victoria, needed medical attention, multiple specialists and therapy, it wasn't only the worrying and time consumption, but the cost of treatments can be unaffordable for some people. With the therapy she has received in part thanks to Sammy's Friends Foundation, my daughter has thus far been able to overcome her challenges.

Jennifer Freier

A Neumette Donor

Thank you Sammy's Friends Foundation for your thoughts, prayers and aid for James! James is almost 3 years old. He has a genetic disorder called inverted duplicated deleted 8p which has resulted in agenesis of the corpus callosum, moderate bilateral hearing loss, and global developmental delay. Other families with children of the same disorder have joked we should call it the Angel disorder as James is a precious beaming sweet social ray of light. High 5s, Hugs and Kisses never run out in our home. James has been working hard with Azriel Novogroder for over a year now. James has learned to sit without toppling. He is still working on taking weight through his legs and learning to crawl and hopefully walk. Thank you for thinking of us!

Amanda Echterling

A Neumette Non-profit Partner

I just wanted to take a moment and thank you for the work you are doing through Sammy's Friends Foundation! Our son Sam is 5 years old and has a rare genetic condition (two base pair deletion on the STXBP1 gene). He has a history of seizures, and has global developmental delays. Physically and cognitively, he operates at around a 6-10 month old level. Although he cannot crawl or walk, he has very good core strength and head control, and he can bring himself up to sitting like a champ! For the past four years, we have been travelling from our home in Alabama to New Jersey several times a year for specialized Physical Therapy with Azriel Novogroder at Novogrow, LLC. Sam is a very tough case, but there is no doubt in our minds that Sam would not be able to do many of the things he can today without the help of the CME Therapy provided at Novogrow. As you can imagine, though, it gets pretty expensive to spend 3 – 4 weeks a year in a hotel and to pay our portion of those 30-40 hours of physical therapy intensives that are "out of network" for our insurance. So I was just thrilled when I found out recently that we are the recipients of one of the Sammy's Friends' Foundation PT vouchers from Novogrow, LLC! Thank you so much for making this possible – it is both an incredible gift for us, and an incredibly special way to honor your son's memory!

Margie Slemp

A Neumette Donor